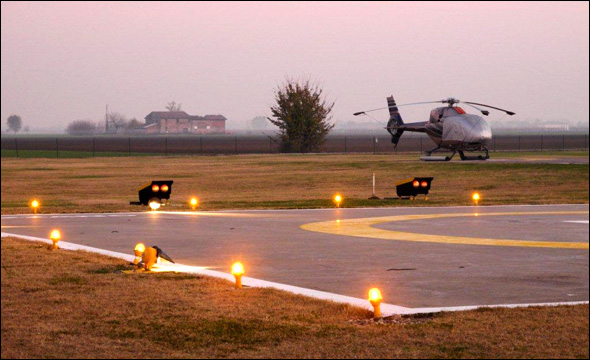 FlyOzzano's helipad has been certified by ENAC for VFR night flight also.
Arriving or leaving users can turn the lights on by themselves, by tuning their radio to frequency 130,00 and using the microphone button as follows:
pushing the button 3 times: turns on the rotating beacon on top of the control tower;
pushing the button 5 times: turns on all the helipad lights and the windsock light in addition to the rotating beacon;
pushing the button 7 times: turns on the rotating beacon, helipad, windsock and all the apron lights.
Landing on the helipad should be attempted from OSCAR point, at 1000 ft, intercepting PAPI 12 (see Jeppesen map).
The lights will turn off automatically after 15 minutes.
The helipad is located next to the fuel station with S.P. gasoline, AVGAS 100LL and Jet A-1.
For further information on the use of the helipad in night VFR, please ask:
Diego Galli cell. 391 4124421
Stefano Landi cell. 349-6086621