At the Flyozzano Airfield, you can fly on historical planes!
We offer a complete experience, which includes flight with piloting rudiments, briefing and description of our aircraft and their historical context, use of flight suit similar to those used at the time and much more!
Contact us for all information, prices starting from 200.00€ *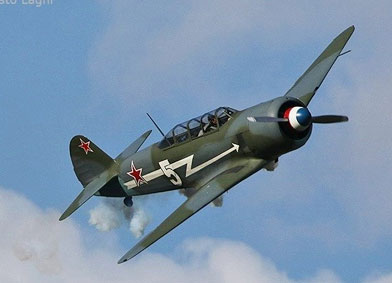 Yakovlev Yak-11 Moose
Derived from war-era Yakovlev projects, this trainer, an evolution of the Yak-3 and later interceptors, in part still featured the same specifications.
This particular exemplar was built in 1952 and is dressed in "Normandie Niemen" livery, in memory of the regiment in which free France crews operated previous versions of this Yak fighter.
---
Boeing Stearman PT-13 1940
Main training plane of the Army Air Corps (later Army Air Force) and used also by the US Navy and Marines during the WW2 period; excellent acrobatic trainer, also used for civil purposes, like farming works, due to its robustness and versatility.
---
* depending on the aircraft, the required flight time and any ancillary services.
CONTACTS
Diego Galli – Cell +39 391 4124421 – mail