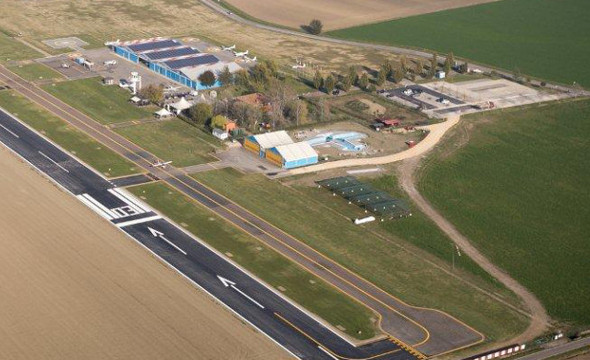 Hangar your plane at Ozzano Airfield and rest assured of our security and expertise.
Our site can provide its users with four interconnected hangars, each of 600 m² (total 2400 m²), in addition to another detached hangar of 450 m².
A new hangar of 1200 m² will soon be built.
All hangars have direct access to the runway via asphalt taxiways.
The whole structure is steel-built with insulated roof and walls, so as to provide mild internal temperatures all year long.
Completely sliding doors allow easy access to all the planes.
Each user can request a metal cabinet with a key-lock in order to store personal items and his aircraft equipment.
Hangaring service can be tailored to individual needs with either a 6 month renewable contract, or daily rate agreement.
All planes kept in our hangars are covered by our insurance, against fire and weather damage.