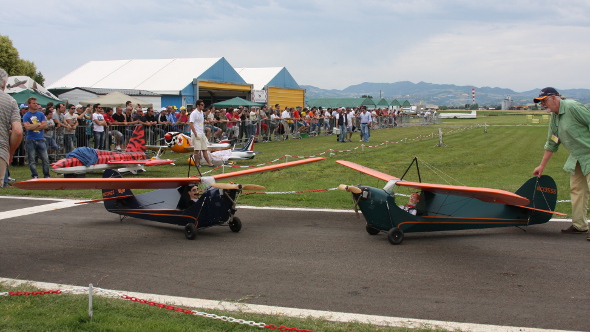 OZZANO AIR SHOW 2015
"Cielo e Volo" e "Radio Model Show" edizioni 2015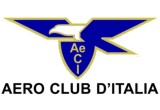 This is the 26th year in which the Ozzano Airfield "Guglielmo Zamboni" will be hosting two important events:
CIELO E VOLO e RADIO MODEL SHOW
Our praise to Paolo Dapporto, who was the creator and manager of these events, having organized them for many years through his Company, Dagapex. Organizing these events involves commitment, work, financial investment and increasing risks. Therefore, already at the end of the meetings in 2013, Dagapex had decided to give up the continuation of these two important events, concerned also about the effect on the Aviation sector of the global economic crisis.
But, as often happens, teamwork can solve many problems. Thus, in 2014, an alliance was formed between Paolo Dapporto of Dagapex and Gianni Zamboni of Skyline, with the aim to continue these two events that, in the field of Aviation and Air models have, over the years, become one of the most important in Italy and followed at a European level.
Skyline then bought the brands "Cielo e volo" and "Radio Model Show" thereby reducing the business risk to Dagapex, with the agreement that Paolo Dapporto would continue to support and manage the two events, with the collaboration of all the operators that are already present at the Airfield "Guglielmo Zamboni" in Ozzano.
However, sometimes just joining forces is not enough. In the past two years there have been great difficulties in obtaining the necessary permits from Italian Aero Club (AeCI), without which, no private individual may hold an air show.
Because of this, and economic losses recorded in recent years, it was decided to cancel these events completely.
When we had already announced that we would have definitely given up the organization of the two events, for the current year and future years, a strong reaction came from the world of flight (thanks to the article by Rodolfo Biancorosso, Director of the monthly "Volo Sportivo"), and consequently the AeCI's President, Sen. Leoni, acted immediately to rectify the situation so that these events, primarily oriented towards the promotion and expansion of the flight, can continue.
The Aero Club of Italy has therefore entrusted with special agreement and under its control, in accordance with current legislation, the organization and conduct of our air shows "Cielo e Volo" and "Radio Model Show", appointing as organizer our company Skyline.
Once these seemingly insurmountable bureaucratic difficulties had been overcome we decided to continue trusting and hoping that the economic aspect can improve.
We therefore believe that, thanks to the involvement of the President Sen. Giuseppe Leoni, these two important events can continue in the coming years, with the intent to keep alive the interest in flying, in our unfortunately depressed Italian Aviation.
We communicate therefore, that the 2015 editions of these events, will take place on the following dates:
26° RADIO MODEL SHOW 2015 06-07 Giugno 26° CIELO E VOLO 2015 13-14 Giugno
SKYLINE S.r.l.
Gianni Zamboni